About Artistic Iron Works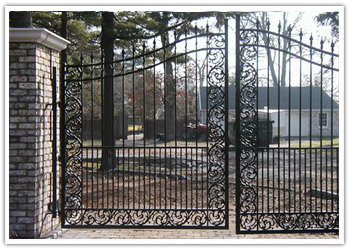 Artistic Iron Works railings add value and beauty to any residential, commercial or institutional railings project. We offer standard and custom designs for interior stair railings and exterior railings for use on stairs, patios, decks and balconies, or as fencing for pool and hot tub surrounds.
Quality materials, hand-forged components, and attention to detail are what set our outdoor railings and interior railings apart from the competition. Our experienced fabricators can handle any size job. We offer exterior railings to be zinc phosphate primed or made from Aluminum which receives a powder coat finish. Interior railings have numerous finish options, including paint or powder coating.
From the simple handrail to compound curved stair railings, Artistic is perfectly equipped to handle all of your railing needs. Choose from our gallery of interior railing and exterior railing designs and projects or provide us with your own ideas. We look forward to working with you!
Artistic Iron Works specializes in the design, fabrication and installation of driveway gates, interior and exterior railings, balconies, garden gates, and fences. Customers include private residences, gated communities, commercial and industrial properties.
Our in-house design team can assist in the design of your driveway gate, railing, balcony, or iron fence. We also work closely with numerous builders, contractors, designers, and architects.